3-star video guides for Angry Birds Star Wars is already up
1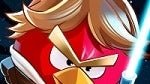 40 video guides are already set-up to bring you glory against the evil piggy empire and we have them all here. With these videos you can see the real Jedi use the force against the pigs. Each video tackles each level individually.
In the first series of videos, the landscape is Tatooine. The Sand People look suspiciously familiar and you know the rest. One of the bigger challenges throughout the whole series of Angry Birds adventures has been perfecting your scores. Some levels just seem to not want to give it up though.
So if you have been battling the dark side and wish to hone your skills, these videos may help. May the force be with you.
source:
Angry Birds Nest
via
Pocket Gamer