16GB Apple iPhone now available with AT&T
3

*UPDATE*
As expected
(see below)
, the 16GB variant is now available on the Apple.com webpage! For $499 with a contract with AT&T, you can get the 16GB version of the music phone. The price of the 8GB remains unchanged, $399, but these are expected to decrease in the near future.
The AT&T site currently lists only the 8GB variant for normal customers, but the 16GB one is in the "Business Center"
Apple iPhone
Specifications
|
Review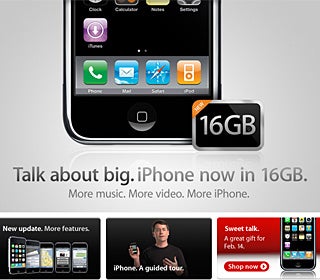 ---
We've received information that today, AT&T will release the 16GB variant of the iPhone. The exact time is 7AM Pacific time, which is ... after quarter of an hour. There have been rumors about this version of the iPod-phone for a long, but it is just now it looks legit. Expect an update with official information soon!