10 premium screen protectors for the Samsung Galaxy Note 4
6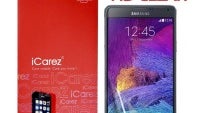 Your Samsung Galaxy Note 4 needs a screen protector like the desert needs the rain. Plain and simple! That gorgeous 5.7-inch QHD beast of a display just can't be let out in the wild unprotected. Getting it cracked or scratched due to negligence, or an unfortunate incident, is like ruining a work of art - and we're not exaggerating in the slightest! Not to mention the headaches and waiting involved in sending the device for a screen replacement procedure.
Don't overthink it, and don't be Uncle Scrooge - buy a screen protector. We've lined up 10 very good choices to get you started, and if you are not sure what type of screen protector to go for,
level-up your knowledge with this article
. It will be worth it in the long run, and both your Galaxy Note 4 & your wallet will be thankful.