10 fantastic puzzle games for Android and iOS to work out your brain muscles with
0
World of Goo
Goo Balls are fun little critters, even if they happen to be slimy...
This is a game of dragging and dropping living, squirming, talking globs of goo in order to build structures, bridges, cannonballs, zeppelins, and giant tongues out of them. It's full of mysterious levels, both strange and dangerously beautiful. It also introduces new puzzles, areas, and creatures that inhibit them. Along the way, you'll discover new species of Goo Balls, each with their unique abilities. They will come together to ooze through reluctant tales of discovery, love, conspiracy, beauty, electric power, and the third dimension. Pretty epic, huh?
Two Dots
Join the dots and see what happens!
In this game, players connect one dot to another, sinking anchors, making lines, creating bombs, fighting fires, and doing other fun things. Two Dots takes players through 760 fun and addicting levels with a clean design and relaxing music. You can play at your own pace and figure out the perfect moves without having to worry about time.
Where's My Water?
Bring the water to the thirsty crocodile and his gang of friends
In this Disney title, you have to help Swampy the crocodile by guiding water to his broken shower. Each level poses a challenging physics-based puzzle with amazing mechanics. You will cut through dirt to guide fresh water, dirty water, toxic water, steam, and ooze through a maze of intricate scenarios! The game will have you play through four unique stories that feature Swampy, Allie, Cranky, and Mystery Duck. This makes for over 500 awesome puzzles, all played with different characters!
Worms 4
Worms firing rockets and sheep at each other never, ever gets old!
Worms hardly needs an introduction, but for the younger ones around here – this is a game where impossibly cute worms stand at war with each other. Designed specifically for mobile devices, Worms 4 features synchronous multiplayer matches, bite-sized matches for quick bouts of action, streamlined menu systems, and rich cartoon visuals made to look great even on small screens. The game is also full of new weapons, upgrades, gorgeous hand-drawn locations, 80 single player missions, factions, world events, daily challenges, and tons of loot. There's nothing like a Worms match!
Worms 4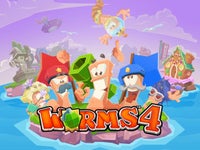 Alphabear
Spell words, get bears!
Alphabear has you spelling words by choosing letters on a grid. When using letters adjacent to each other, bears will appear... because, why not? Now, the more letters you use, the bigger (and more alpha) the bears will grow, and the more points you'll earn. When your score goes high enough, you'll win a bear for your permanent collection. Bears can be used as power-ups in future games, increasing the points you earn, extending your timer, increasing or decreasing the frequency with which letters appear on the game board, and other cool stuff. Alphabear!
Alphabear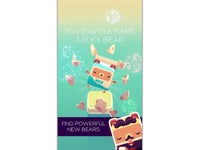 ALSO READ