10 fantastic LG G3 screen protectors that prevent scratches and shatter
4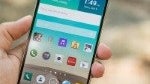 Looking for something to give the LG G3's display that extra edge against our common enemies - scratches, impacts, bumps, and fingerprints? Look no further - here are ten of the finest screen protectors you can buy for the smartphone. Whether it is PET film, military-grade TPU, or tempered glass that you're after, you will find great protection for your money.
If you are unsure what a screen protector is, what's it made of, and what types there are out there,
head to this article of ours
and get a free crash course in smartphone screen protectors. Come on, don't be scared!