10 beautiful Android Wear watch face packs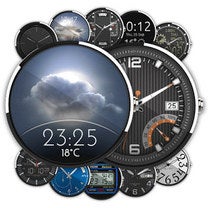 Unlike a smartwatch, A high-quality traditional watch doesn't need to be recharged on a daily basis. Also, it will likely be perfectly useful decades after its purchase, while a smartwatch isn't likely to endure the tests of time very well. But can you change a classic watch's face? Nope, we don't think so.
The ability to personalize an Android Wear smartwatch is cool indeed, and the collection of third-party watch faces available at the Play Store is growing steadily. Some are functional and feature-packed, others aim to deliver the best visual experience. The 10 Android Wear watch face packs we have below belong to the latter category. Check them out!